For the intrepid young traveler, Southeast Asia is dotted up and down with irresistible travel destinations.  Many of these have sacred cultural heritage sites, exotic scenery and unbelievable food.  So what sets Bangkok apart as the one can't-miss big city in the region that you really can't skip no matter what?  It's the nightlife. Bangkok Nightlife is a killing Entertainment point in terms of nightlife.
With 32.5 Million visitors a year, Thailand is seems to stay on the captain seat of tourism and nightlife for quite a long time.  You can visit a temple and drink a fresh mango smoothie in any number of locations, but Bangkok is the one place you have to be when the sun goes down for extreme Bangkok Nightlife Events.
Let's have a start with accommodation in Bangkok;
For many foreign visitors in Bangkok, the starting point is Khaosan Road.  This is the place built around receiving, accommodating and inebriating young foreign travelers specifically.  The entire area essentially consists of visitors from other countries and local people there to make money off of them.  Try the Casa Nithra Bangkok, it is located in the perfect happy place between cheap and expensive, and between close to the nightlife and far enough away from the noise that you can get some sleep.
For a more high-end experience, try Ariyasomville in the Sukhumvit area.  It is a boutique hotel with a great atmosphere.  This part of town is centrally located and highly accessible for all forms of transport, which is critical in a city like Bangkok with so many different areas that are worth visiting.
Another option to consider is the Silom area.  This place has it all, with easy access to parks and tourist attractions while still being within earshot of the "Bangkok Nightlife" when it gets a little later. Check out the Lullaby Inn and other mid-range options in the vicinity.
Second concern should be about Bangkok Nightlife Safety;
Some might ask "Is Bangkok safe?" which is just a random question that one must be aware of!! You should first be aware that while unrest rarely affects foreign travelers, Thailand is increasingly unstable politically.  There have been multiple coups and street demonstrations in recent years.
Protestors have even forced the airport to close at times.  With the recent death of the King, things are as uncertain there as they have ever been.  The tourism industry has thrived right on through these difficult years, with only brief periods of interruption, so these facts shouldn't dissuade you from visiting.
What I suggest;
 You might want to pay attention to Thai news in the weeks preceding your trip though, just in case things take a sudden turn. The availability of drugs on the street is usually pretty high, and the normal cautions apply here.  Most products should be safe but verify authenticity when possible.  Remember that your number one goal, besides experiencing Bangkok's nightlife, is to stay out of Thai prison, so purchase in low quantities and don't draw attention to yourself when you are carrying.
Also, be aware that men posing as police officers have been known to occasionally try to extort money from tourists, asking for their passport and making up bogus charges.  Ask for identification.  You can also tell them that you will walk yourself to the police station to follow the proper procedure and tell them that they can follow you there.
Obviously, they will have disappeared by the time you arrive if they are up to no good. After this information about "How to Stay Safe in Thailand", let's get start with the Bangkok Nightlife;  
Late Night Hot Spots
Try to cover your bases by visiting as many of the popular areas as you can to get the fullest possible picture of the nightlife of Bangkok.  Siam, Chinatown, Chidlom, they all have something to offer.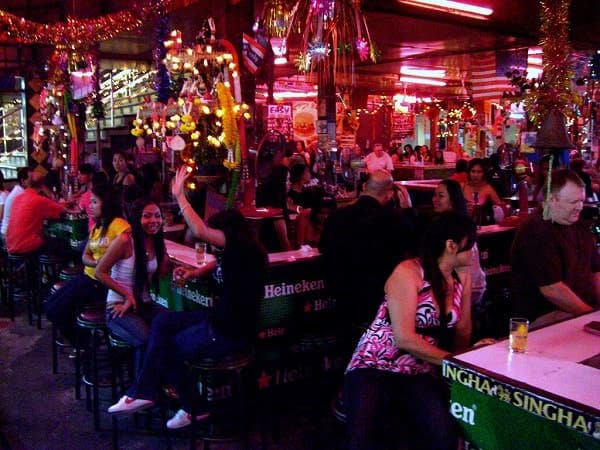 Here are just a few recommendations to get you off to a running start, all specifically selected because they are great places for getting acquainted with young ladies.
Head over to Climax in Sukhumvit Soi 11.  Even if you couldn't find the place (which you will), it would still be okay because there is so much to do in the surrounding area.  Located in the basement of the Ambassador Hotel, there is a 250 Baht entrance fee and cheap drinks inside for ladies.  Nice mix of Western and Thai music as well.
Bangkok Beats is in the same area, only a quick walk from Climax.  The appeal of this place is that there is something to match everyone's style.  Dancing, playing pool, sitting at tables, whatever you feel like.  It's nice to have a quieter place to sit down if you want to get better acquainted with a young lady you might happen to meet.  And there will usually be plenty of those Beautiful Thai girls in here.
As already mentioned, Khaosan Road is touristy as hell; so many people like to avoid it.  However, if you don't mind being around a lot of drunk backpackers, you should definitely check out Gulliver's and some of the other nightclubs on the strip.  The reasoning is quite simple: this is the part of Bangkok where the nightlife spots have the fewest number of working girls, if a free one night stand is what you are after.
Whatever your style, this city is full of beautiful Thai women.  It's probably time to talk about how to get to know them better.
Female Companionship in Bangkok;
This is a big world we live in, and Bangkok is the sex tourism capital of the whole damn thing.  This is where the Bangkok nightlife completely separates itself from any other city that thinks it can compete in other areas (but probably can't).
If you are looking to pay for your pleasure, visit one of the three main red light districts in Bangkok which are: Soi Cowboy, Nana Plaza, or Potpong.  Once you arrive there is really no instruction manual needed.  Strip clubs, massage parlors, and go-go bars are all in ample supply.  Entry is usually free and the drink prices tend to be fixed.  For first timers the atmosphere tends to be welcoming and no one is overly pushy.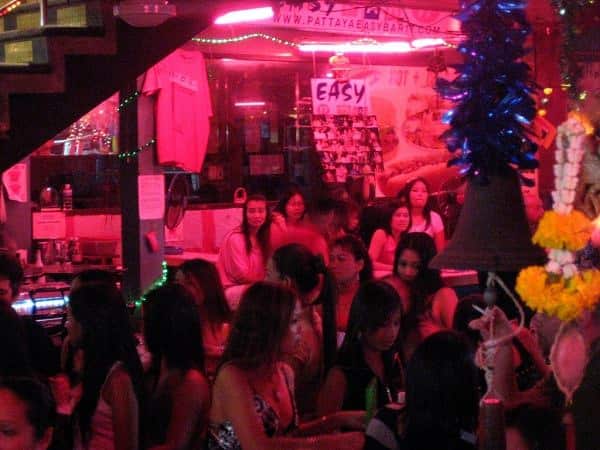 If you just want to have some drinks and take in the scenery of the seedier side of Bangkok nightlife, that can be enjoyable in and of itself.   Just keep in mind that for a price, most of that scenery in these areas, even girls that are not ostensibly pros, can end up in your hotel room.
 Likewise, if you just want to enjoy a Thai massage without taking it to its last possible conclusion, that would be absolutely fine.  Thai Masseurs are, after all, world famous.  If you want more than that, rest assured that will be fine as well.
One fun thing you can do that is kind of a Thai trademark is go to one of many bars where you can hang out with pretty Thai girls and play simple games like Connect 4.  These girls are employed there, and you have to buy them drinks for their company.  For most of them, off-premises company is also on the menu.
For those that like the challenge or have strong principles or whatever other reason, if you want to meet non-working girls in Bangkok, they are just as pretty and friendly, although obviously a little harder to attain.  As mentioned, Khaosan Road is a place where many Bangkok girls who are interested in foreign guys go to have drinks.
One thing to keep in mind is that the next morning, many of them will expect you to give them cab fare, so in many cases it may end up that completely free sex in Bangkok is kind of a unicorn.  Some of the cheaper hostels have rules against bringing back Thai girls so if you're in a budget place you may have to sneak her in.
If you want a free one-night stand, whenever you meet a girl, you have to start the encounter with the knowledge that in this city, you never know who is a pro.
Likewise, you never know who is actually a dude.  The rumors are true, and you do not have to question your sexuality to admit to yourself and others that some of these Thai guys, when they get all made up and in costume, can be pretty as hell.
You will have to develop a seasoned eye to spot them immediately 100% of the time, so be vigilant!  That is not the kind of surprise you want when you get back to your room, nor the kind of story you want to bring home (unless it is, in which case you might be in heaven).
The final word is that if you can't have fun out in the Bangkok Nightlife, the problem is probably with you.  This place will make your average nightlife scene seem like a church picnic.  If you are considering a trip anywhere in the region, passing this city up should not be considered for even a moment.
If you like this article, Please share and if you have further questions anything about Bangkok Nightlife, feel free to comment down, I would be happy to answer your questions.