Cebu City is the capital of the province of Cebu and it's a paradise for single men all around the world. It's actually one of the most popular retirement destinations for Western men. And there's a reason why people chose Cebu Nightlife for the best nightlife features and options.
With roughly 866.000 populations, this amazing city in the Philippines is not too big and not too small. It offers a wide range of attractions, such as the Magellan's Cross, the Fort San Pedro and the Cebu Reggae Festival.
But you are not here because you are interested in the tourist attractions. You are here because you are interested in the Cebu Nightlife. You want to know where you have to go to party, to dance and to meet beautiful Filipina girls in Cebu, Philippines. Well, there is one place in Cebu city where you can party until the break of dawn. This place is not only called like a delicious fruit. It's also packed with delicious Cebu girls. Before giving little info about the place, I would like to inform you about Girls in Cebu.
Cebu girls are really self-confident, beautiful, sexy, easy-going talkative and smiling all the time. You might thing that it is a part of trapping a western man. You apparently right but every girl in Cebu doesn't gives crazy attention to find a western man. Most of them are really friendly and polite. The point you need to be careful of course the prostitutes, the girls who approaching you in the bars or nightclubs. After this quick tip about Cebu Girls, you can continue to read one of the colorful spot in Cebu.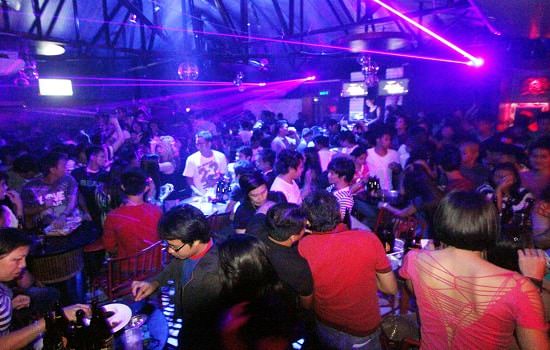 Mango Square:
The Mango Square in Cebu is the place where everyone goes who wants to have a wild party. It's a bit outside of the city center, right next to the Fuente Circle. The crowd is a mix of local people and tourists. Most tourists are men and most of the local people you see are beautiful Cebu girls who hope to meet Western men. Mango Square is one of the best popular spot for Cebu Nightlife Events for most of tourists and it really is.
You can meet hundreds of beautiful Filipinas at the Mango Square. And I know how amazing it is to date a Filipina. But be careful. Some of these girls are prostitutes in disguise. You don't want to wake up next to a girl who asks you for money. You want to meet amazing Filipinas in one of the nightclubs around Mango Square in Cebu City…
Cebu Nightclubs;
Julianna's Avenue: This is the most famous nightclub in Cebu. It's also one of these clubs that are not too crowded with foreigners. Many locals go there too, which leads to a mixed crowd. You can actually purchase a seat in the VIP corner, but you don't have to. You can meet girls without a seat in the VIP area. All you have to do is to approach them. Just be careful when a girl approaches you. She might want a bit more than sex.
The Loft: The IT Park in Cebu city is the biggest b
usiness district in town. At the same time it's also known for the Waterfront Hotel and the countless restaurants in the IT Park. And right next to the Waterfront Hotel is the Loft club. It's a great place for everyone who loves electronic dance music. Thanks to the entry fee of 300 Pesos, it's an awesome place to meet high society Filipina girls.
The PUMP Nightclub: The Ayala Mall is not only the biggest mall in Cebu, it's also home to one of the most famous clubs of the city, the PUMP nightclub. It's the "hip" place where all the college girls and young party girls go to. Why, you ask. Well, because it's the only club that plays Korean Music all night long and Filipinas go crazy for K-Pop.

Other Nightlife Venues in Cebu:
What if you are not a big fan of loud music and bright lights?
In this case you might enjoy one of the other nightlife venues that Cebu City has to offer. Have a look at the following two alternative venues and decide for yourself if you want to visit Cebu.
The 22nd Street Comedy Bar: I love this place, I really do. It's a cozy bar where different stand-up comedians perform their best jokes. The drinks are cheap, the girls are beautiful and most of the jokes are actually quite good. It's definitely worth a visit.
The Distillery in Cebu: This venue is very popular among the young Filipinas and Filipinos. It's a mixture of classic bar and exclusive lounge. Sometimes, when the bar gets too crowded, the bar turns into a club and people start to dance. You never know what happens when you visit the Distillery in Cebu.
Conclusion of Cebu Nightlife
The island of Cebu is known for its incredible landscape and breathtaking beaches, but the city is known for its vibrant nightlife. As a first time visitor of Cebu city, I recommend that you start your night at the Mango Square. Once you are there you can check out Julianna's Avenue and if you don't like it you can go to one of the other clubs.
Once you have met a Filipina you really like, you can take her to the 22nd Street Comedy Bar. She will have a great time. And if you still couldn't find the right girl, you can check out the Distillery in Cebu. You will find her there. If you have extra time, you can fly to Manila to enjoy and discover crazy Manila Nightlife as well. Enjoy your travel to Cebu and don't forget to comment if you have additional information 🙂