Kharkov is a beautiful Ukrainian city located at northern part of Ukraine. Kharkov is mostly a student city and second biggest city in Ukraine. İf point is about students of course the nightlife will be extreme fun and lively in Kharkov. My story to Kharkov started September 2016. I was there for 4 days. Kharkov nightlife was told me before and I got really plan to enjoy my night outs there.
If you are going Kharkov just for the nightlife, I would strongly recommend you to book an apartment instead of hotels. Some hotels doesn't accept guest from outside. Even if you find the one that accept, Ukrainian women generally doesn't stay at hotel with you as they feel bad accordingly. Well, ıt doesn't matter where you book apartment as nightlife in Kharkov is generally little outside of the city. There are some pubs and bars inside the city but you need to be careful not to go some of the bars as you may smell the trouble.
Anyway, when you arrived to city by plane you will have faced the corruption from visa officer to security officers in the airport. Actually they are not rude but this is the kind of policy. If you not willing to add some bucks inside the passport, you will be probably questioned for nonsense reasons around 20 min. I have been asked where am ı going and which hotel I will be staying in Kharkov. Also they ask my return ticket. So just in case print them all and take with you while processing visa. After you have finished the painful visa process, well come to beautiful city of Kharkov.
Taxi drivers out there starting to hassle from entrance to outside. Just be careful as they know you are a big source of dollar for them. I have been asked 200 (7.5$) Grivna to go city center. But later I discovered if I would call 3040 to call a taxi, it's just half price from airport to city center. But this number speaks Russian. This is an idea those who can speak Russian. I finally arrived to my house which located quite center. The daily cost of apartments in Kharkov starting from 300 (12$) Grivna to 1200+ (50$+). It depends on facilities and location. Do not pick location for the nightlife. Always use taxi when you want to go somewhere. The price will not going to hurt your budget seriously. Anyway it's the first night and I already been placed to my lovely house. I am excited to go out to enjoy Kharkov nightlife events.
Recommended For You: Dating Ukrainian Girl
Actually I was little tired but who cares I have only 3 nights here. Went out of the home and saw a McDonalds a few block down. I was hungry and don't want to risk my appetite with Ukrainian foods. That doesn't means Ukranian foods are bad but it's not the right time to try. After eating McDonald, I have jumped in to a pub which is really local pub with local people inside. The average of the girls was not really bad but the prices explained me the place is not really a luxury or high class. Who cares, I was getting few beers to get ready for the amazing Kharkov nightlife.
While drinking my beer, I asked the waitress which nightclub I should go in Kharkov. Because I don't really know the city and I just know few bars according to my researches before I came. She recommend to me Bolero nightclub to have extreme fun. I trusted her and asked for the help to find me a taxi. By the way it was Friday night and I am almost ready for the crazy Kharkov nightlife. I arrived Bolero Nightclub and she was correct about the nightclub.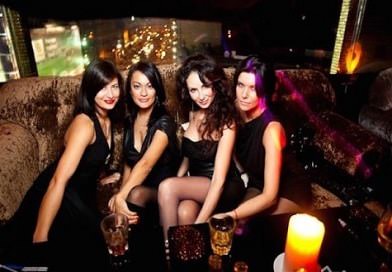 Aha! Dress control. Guys you need to be suitable with your dress to enter the nightclubs in Kharkov. There was a little queue when I arrived but I had no problem with my dressing. There is entrance fee of most nightclubs in Kharkov. Depends on the day and party that already organized, ıt will be somewhere around 150 to 300 Grivna (6$ to 12$). Bolero nightclub is famous with concert and sometimes famous dj's shows boost the fun to the top. Atmosphere is wonderful actually but too much guys are around. I have met with one of the girl in the group of girls in Bolero and we hang out together all night. But it was very hard for me to take her to my home as it is the first night.
I don't know there is too much drama going on that it is easy to get a girl in the nightclubs but it is totally wrong. The key rule here in Ukraine is trust. If the girl really trusts you, there is nothing can stop you to take her. But if you don't give any trust, even you are Brad Pitt, you have no chance. Some of the girls are sex workers in the nightclubs; I have no comment for these girls as this is their job. But if you don't like such ways, you need to be patient for local girls. Usually first nights %80 fails. But don't worry, if you affect the girl, next day she will be in your arms.
Some of the top nightclubs in Kharkov;
Platinum
Casta
Night Club Bolero
Galaxy
Night Club Plazma
Jackson
Jara Club
Art Club Korova
Royal night club
Meridian Nightclub Kharkov
Misto Club Kharkov
Panorama Lounge Kharkov
Radmir Club Kharkov
Arizona Club Kharkov
My remaining 2 days was more or less same but I was with this girl and she was really nice to me. She got permission for me from her job for 3 days and we spend 3 days with her by discovering city and enjoying Kharkov Nightlife. We are still keeping in touch and I am waiting right time to meet with her again. Kharkov nightlife is a must. If you are travelling Ukraine, Kharkov is the second recommendation after Kiev nightlife.