Koh Phi Phi has a well-earned reputation as one of the top islands to visit in one the countries well-endowed with islands on earth: Thailand.  Koh Phi Phi offers some of the most stunning natural beauty available anywhere, which is why a nearby island was selected for the filming of the Leonardo Di Caprio film, The Beach.  However nature is often only a secondary reason why countless young travelers from all over the world take the roughly two hour boat ride from Phuket to reach the island.  For many, it's the  Koh Phi Phi Nightlife 
Koh Phi Phi Nightlife Review;
Koh Phi Phi Nightlife does something not always accomplished by global hot spots, which is that it lives up to the hype.  Watching live Muay Thai fights in the pub, dancing at beach clubs with bars that sell Rasta joints for only a few measly Baht, and doing so in the company of beautiful people definitely justifies the long journey to get there.
So let's get you started.  The first question is when to go Koh Phi Phi Island?  The only major event to be aware of is the full moon party which is scheduled, believe it or not, according to the lunar calendar.  You may want to check how this coincides with your travel plans and you'll also want to be aware that the king of full moon parties is undoubtedly Koh Phangan.  There are full moon parties on Koh Phi Phi as well, however, and best of all, Phi Phi tends to deliver solid crowds of young backpackers night after night regardless of the moon's position.
Koh Phi Phi Island Accommodation;
Before you can enjoy the nightlife, you'll need to find a proper place to stay, and it is highly advisable that you do so before you hop off of the ferry at the main pier.  Koh Phi Phi is not huge, but there are too many options for you to risk wandering around forever and ending up somewhere far from the action.  Get on a hostel booking site first and find a place in Loh Dalum or Tonsai Bay, near many of the Koh Phi Phi nightlife hotspots.  Hotels there range from "pretty damn expensive" to "you get what you pay for", so the best move is to reference the ratings and make the best choice for your budget.
Koh Phi Phi Bars, Nightclubs & Events;
Just to get a solid starting point, here are a few names with shorts walks to the bars that should facilitate easy meeting and mingling with other young people who are eager to enjoy the nightlife in Koh Phi Phi:
Blanco Beach Bar

Coma Lounge & Hostel

Ploy Dorm Room

Marine House
So now the formalities are out of the way and we can get down to business.  There won't be any shortage of nightlife options but there are definitely a few places you must hit up to ensure you're not missing anything.  Start off at Reggae Bar in Tonsai Village.  How often can you start in on your first few drinks while watching live Muay Thai right in front of you?  Yes, these fights are scripted, but they are a really good show nonetheless and serve as an awesome demonstration of the moves and style that has made this form of martial arts world famous.  The real fun starts when the drunk and stupid foreigners are invited to don some gloves and give their own demonstration.  There are always many takers and the show that they put on is equally entertaining.
Next you should stop by the nearby Stockholm Syndrome and play some beer pong.  If you've never played beer pong before that's even more reason to go, but also makes it less likely that you'll be walking straight when you exit the venue.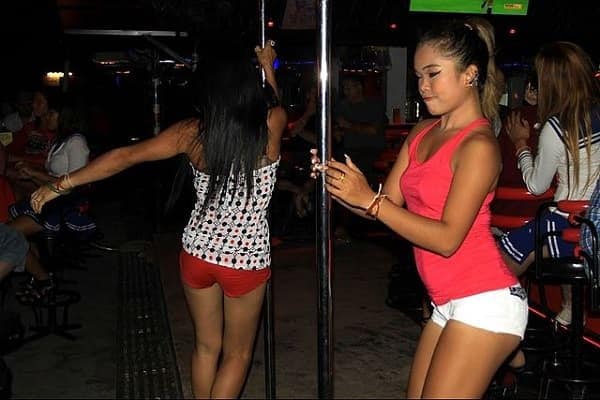 These are good pubs to get your warmed up, but you're in Koh Phi Phi, and the main attraction is the beach bars.  It's always best to talk to people around you and gauge what's going on that particular evening, but you'll be safe showing up at local nightlife staples such as Ibiza Beach Club, Carlito's Beach Bar, or Apache Beach Bar.  This is the part where you start ordering 'buckets' and enjoy some fire shows.
The volume of the music will go up as the hour gets later.  For hip hop lovers and/or non-Europeans out there, please be forewarned that these places will most likely be banging techno/electro music at full blast, so come prepared.  It might be a good chance to try out some new dance moves so just switch over to "when in Rome" mode and enjoy yourself.
As eluded to earlier, don't forget that many places have an 'unofficial' bar menu.  In addition to burning one down right there on the beach, it's probably a good idea to stash a joint or two away to aid with getting through the next day's hangover.   The music typically shuts off at 2:00 AM in Koh Phi Phi but the drinks will keep flowing, so no need for the night to end if you are not good and ready.
Koh Phi Phi Island / Thailand Safety Tips;
In terms of safety, most of the same common sense rules that you follow when traveling in general apply here as well.  Westerners in particular traveling in Asia stick out like a sore thumb no matter what you're wearing or doing and many locals will view you in terms of how much money they can get out of you.  This is to be expected as the local economy is built on tourism, but it is something to be aware of.
Koh Phi Phi Girls and Ladyboys;
Male travelers in Thailand will quickly notice that the natural beauty is well complimented by the beauty of the female inhabitants.  Thai women are friendly and easy to approach, but just remember this: you never know who is a pro, or who is actually a man.  If you happen to meet a Thai woman while you are out enjoying the nightlife in Koh Phi Phi, these are two points to confirm, before you start buying her drinks if possible (if it is a 'her').
Whether your style is to write out a meticulous plan before you ever leave home or just go with the flow when you get there, it's all but guaranteed that you will have an excellent time on this island.  The Koh Phi Phi Nightlife is on par with any tropical destination that you can visit in the region and the long trip to get there is a small price to pay for the fun times to be had.