Pattaya, as you know the paradise of Thailand. Clear blue beaches, tropical fruits, Sea sports, diving, Kano, parasailing, matchless nightlife and much more… Its known as paradise of today's world both for fun and unforgettable nightlife experience. Pattaya is one of the best and famous touristic spot of Thailand. It is more popular than capital city of Bangkok. Popularity comes from extreme Nightlife options. Pattaya Nightlife is the main reason to spend holiday there.
Nightlife in Pattaya Thiland is crazy as you have never imagined. If you haven't been in Thailand yet, I would highly recommend to pack your luggage and it's right time for Pattaya. So, "What is the best time to go Pattaya?" The answer generally from October until April. But high season starts form December, January and February.
These 3 months Pattaya usually packed and the fun is top. I am pretty sure you will fall in love with Pattaya and when you go back to horrible working life, you will feel dispirited for about 1 month. Pattaya nightlife will leave a warm and sexy memories with you that you might not experienced anywhere else in the world before.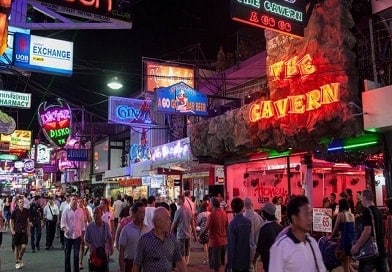 Let's get start with crazy, colorful, unlimited Pattaya nightlife and nightclubs. Extreme fun and charming holiday spot Pattaya provides you more than you want. While walking at the streets, too many invitations from the massage rooms by Pattaya girls who are working in the bars and massage saloons. This hassling is not disturbing you as well. Imagine a sexy girl in front of a bar is calling you to have drink with her or invite you to watch Pattaya bar girl's shows. Sounds crazy isn't it 🙂
Nightlife in Pattaya is generally safe in terms of safety. People are always smiling and you will feel the warmest Asian people hospitality when you are walking along the "Walking Street in Pattaya." The biggest and longest street and the best location to hang out is "Walking Street Pattaya" everything and everyone stucks and walk in this street. All the bars, pubs, nightclubs, restaurants, fast-foods, tattoo, jewelry, gift shops, massage saloons and so on located and desined well in walking street. Whatever you wish is possible in Pattaya Walking Street.
Walking Street is the center of Pattaya Nightlife. You have thousands of options for the night. Just walk among the thousands and pick place that you want to have fun. Here you go! If you are planning more than 3 weeks holiday, better subscribe membership of some nightclubs.
You will get a member card which can let you save bonus in your card and free entrance. Also this card will save your bottle for tomorrow night if you are not able to finish it. The more you use your card the more bonus will be creditted to your account which will let you buy free drinks. Some of  the nightclubs have entrance fee and dress control.
Pattaya Nightclubs & Bars
Flexx Club "Soi Soho Square, Walking Street Pattaya"
---
Marine Disco  "Walking Street, Pattaya "Walking Street Muang Pattaya"
---
Ruby Club "437/46-47 Moo 9, Soi 6 (Yodsak), Chonburi, Pattaya"
---
Club Insomnia "Pattaya, Bang Lamung District, Walking Street"
---
Kitten Club Pattaya Night Club Bar AGoGo "Soi 13/4, Beach Rd, Pattaya"
---
Windmill Pattaya Club & Gogo "Walking Street Muang Pattaya"
---
The Nashaa Club "147/1 Moo 10 Walking Street, South Pattaya"
---
Mixx Night Club "Pattaya, Bang Lamung District, Chon Buri 20150"
---
Oasis A Go Go "383/70 Moo.9, Soi Bua Khaow, Nongprue, Banglamung, Pattaya"
---
Club Electric Blue "175/48-50 M.10 Pattaya15, Pattaya sai 2 Walking Street, Pattaya"
---
Go-go bars are traditional in Pattaya and it's very famous with spritz shows inside. Everyone must experience Go-Go Bars at least once. Girls in Go-Go Bars are mostly sex-workers and you can spend the night together with Go-Go Bar girl that you like but you need to pay "Bar Fine" as they called which is around 1000 Baht(Thailand money). This amount doesnt includes girl, it will only allows you to take this girl out.
You need to pay the deal that you have done with the girl. Paying for sex in Thiland is a case of old guys but for adults, I dont think so. Just trust yourself and hang out in Walking Street. Nightclubs and bars not only full with Prostitutes, there are also many foreingers that visiting this clubs. Its all depends on your picking girl skills. Here is some tips about "How to court girls in Nightclubs".
I can confidently say that noone sleeping alone in Pattaya. But if you directly finalize your night by such ways, massage rooms, hotel lobies, walking street and Go-Go Bars can help you out in short way. There are thousands of massage saloons in Pattaya that providing erotic and relaxing massage and every 10 steps in walking street, you can have deal with Thai Girls. Don't be hasty as there are thousands of descriptions and options when you move on through the end.
Girl friendly Hotels in Pattaya
No need to worry about Girl Friendly hotels or in another term guest friendly hotels in Pattaya. Most hotels in Pattaya are girl friendly hotels. almost %90 percent will not charge any extra from you as they all know this is the established rules there.
It's also very safe as they are calling and getting permisson from you if your guest leaving hotel. they can not go out of the hotel without your approval from the reception as they are giving their ID card before they enter the hotel and it is mandatory. Nevertheless,  you can mail the hotel you book that whether they are guest friendly or not before you go just to make yourself sure. Also make sure you are picking hotel near Walking Street, so that you will not pay extra for the taxi to transport.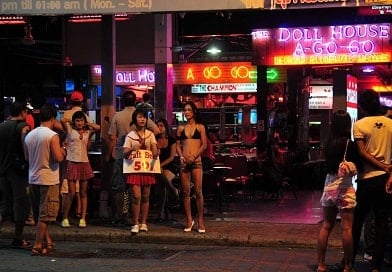 Girls in Pattaya
Pattaya girls are really sexy, attractive and beautiful. Try contact with Pattaya girls before you going. Girls in Pattaya are active users of social networks and they really love to meet with foreigners. Here is Best Social Networks for finding girls. Its always better if you have a guide in Pattaya and would be much better if guide is girl.
For the Best Asian Dating Websites (including Thai Girls) I highly reccomend you to VISIT HERE.
Prostitution in Pattaya
Prostitution is the biggest reality and industry of Thailand. Sex tourism has huge role on country's economy. Don't be shocked when you see 60 or 70 years old guys are together with 17 18 years old girls in the nightclubs, bars, beaches and every corner of Pattaya or whole Thailand.
The visitors with aim of sex tourism, Pattaya nightclubs, Go-Go Bars, massage saloons, streets and beaches can be options to find a prostitute. By the way keep away from the self-worker prostitutes especially at the beach side. One more point that you need to pay attention is lady boys in Pattaya.
Just be careful as it's sometimes very hard to understand whether girl or boy. Most of them are waiting for customer specially on walking street but they are actually lady boys that looks like more beautiful than a women. I want to finalize by saying;
Pattaya is safe. English police officers on duty 24 hours at Walking Street.
Fun and entertainment is unlimited and it's affordable country. I thing 60$- 150$ daily budget will be fine for unforgettable holiday experience.
Do not schdule your trip between May to September. The weather will be rainy all season and not warm as in January.. And it's also not crowded as in high season.
And don't forget Pattaya Nightlife makes addiction 🙂